When I first saw this posted on MrXStitch my mouth kind of dropped and I thought, "Wow!" My second thought was, "I need to show this amazing artist on my blog!"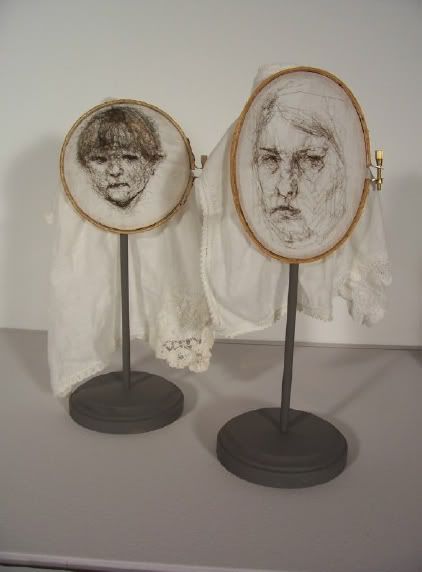 2 small scale embroidered portraits, one a self-portrait, one a portrait of her son, both embroidered beautifully and painstakingly from hair
I think that is just amazing and beautiful. Leslie Schomp uses a mix of hair and nylon thread in her embroidery.

What inspires your work?
I think of my work as memoirs so the examining of oneself is a huge inspiration for me. The act of drawing also is my content. I am always looking for ways to expand that practice and knowledge . When I have doubts about my work I try to remind myself that I need to see the idea even if I'm not sure about it. I try to think of my work as a sketchbook. I also love to look at work that was made in difficult circumstances, women who work tirelessly at their domestic duties and found time to make notations about their lives that still exist for us today.
What is the importance of using hair? Where do you get the hair you use? What are the
challenges of working with hair?
I make portraits with a combination of brown translucent nylon thread and hair. At first the hair, my own, served as another shade of brown to create value range. I liked that it genetically linked my self-portraits to myself. I also get hair from my husband.
Hair is very slippery and is often very short proving it to be difficult to work with at times. Hair work can be beautiful and creepy . I am intrigued and also repudiated by hair objects of the past. I like this tension of feelings about it. I also at times use pressed flowers in my work with the hair. Hair and pressed flowers are organic material that decay slowly. I like knowing that I grow the flowers and use them in my work with part of myself.
(the above questions and answers are from the MrXStitch article. Read the article for a full interview)