While I'm busying moving, unpacking and making my new home look pretty and inspiring, we have a few guest posts for the blog

Today is a post by Michele H from DohDums. I'm very excited about this post! One of my 4 Simple Goals is to cook more so meal planning is something I need to work on

(If you are interested in guest posting on my blog, just send me a message via the contact me button on the left side of the blog)
– Kendra
————————————————————————————-
Hi everyone, I'm Michelle from DohDums, a really new blog about my favourite things. I'm happy that Kendra is allowing me to do a guest post while she is moving – hope everything is going well with your move!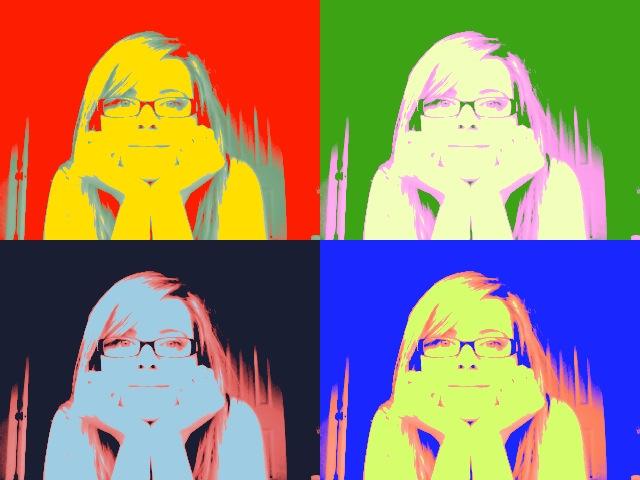 (Excuse the cheesy Photobooth picture, it was either that or one from my wedding two years ago, clearly I need to take more photos of myself!)
Kendra and I are both participating in Elsie Flannigan's 4 Simple Goals. The idea was to pick 4 goals that will make your life better and to achieve them by 2011. A pretty fun exercise that I am thoroughly enjoying! Kendra and I happen to have a goal in common – cook more meals.
My husband usually does all the cooking, but I'm going on maternity leave in November so we decided that it would make sense for me to take over the bulk of the meal responsibilities. Now I'm as easygoing as the next girl, but I have to tell you, the thought of coming up with a delicious dinner while caring for my first child made me a little uneasy, so I decided to take over the cooking now in order to get into a bit of a rhythm. That way it will hopefully be business as usual once we bring the little dude home.
I envy those of you who are able to open the fridge door, take a look at the stuff you have and create a delicious meal without opening a cookbook. My husband does this and I am amazed every single time. So what's a girl to do? Turn to Meal Planning, of course. I've been Meal Planning for a couple weeks now and I have to say, it's working really, really well! I wanted to provide Kendra and her lovely readers with some easy, foolproof meal planning tips as well as my favorite go-to recipes in hopes that you all have as much fun as I'm having!
The golden rule of Meal Planning– don't over-plan! I choose to do a 5-day meal plan, focusing mainly on dinners. Around here, breakfast is something "grab and go" for my husband (a muffin, granola bar, etc) and usually a fruit smoothie for me. For lunches I usually plan to make enough food for dinner that we are eating leftovers. The goal is to eventually get so good at cooking that my leftovers can be re-purposed into something completely different for lunch – anyone else out there dislike leftovers?
Why don't I plan for 7 days worth of dinners? The answer is simple – stuff happens. We get invited out, decide to go out or have too many leftovers that it doesn't make sense to make something new. We have a standing Sunday dinner date with my in-laws every week, which takes care of one night and the other night we haven't planned for is usually to eat up all the leftovers from the rest of the meals. It's easiest if you remember to be flexible. If you were planning on making chicken a la whatever for dinner on Tuesday and then you are invited out with friends instead, make that meal on Wednesday, move it to the beginning of the next week or scrap it all together. Chances are you will be able to use the ingredients you purchased for another meal.
The freezer is your friend. We buy all of our meat from Costco, portion it out and freeze it. That way we don't have to worry if meals get moved around that the pork tenderloin needs to be used, or the chicken is going bad. As long as your meat is well sealed and in proper freezer bags or freezer-specific tupperwear, you don't have to worry about freezer burn. Fruit that looks like it's going to turn soon? Throw it in the freezer and use it for smoothies or baking or snacking – ever had frozen red grapes? YUM!
Plan your meals together. My husband can be a little bit of a picky eater while I am more on the adventurous side. If I planned all of our meals in isolation, the poor guy would starve! Here's what we do – every Thursday night we sit down with my iPad and a whole bunch of recipe books. We use a meal planner that I made to write out all of our meals and a grocery list. We also include any important things in the calendar – for example, if my husband is going out for lunch with co-workers one day he won't need lunch from home so we can scale back the meal the night before. Or if we are going to my parents for dinner on Friday, we don't need to worry about cooking anything. Once we have decided on our meal plan, I write up the grocery list and go shopping the next day.
You can download my meal planner here. It isn't flashy, mostly because I like to doodle and wanted space to do so. I usually print the week on one side and the grocery list on the other side that way they stay together. Once the grocery shopping is done, the meal plan goes on the fridge and then gets tucked away into a meal planning binder that I use so I can reference previous dinners.


Breakfast for dinner is a great backup. Say you make something for the first time and it is a disaster. Or you forgot that one ingredient at the grocery store and don't have time to run out. Well, my friends, that's when you make breakfast for dinner. I'm talking bacon, eggs, toast, and hashbrowns. It was one of my favourite dinners growing up and we probably eat it more often for dinner than for breakfast! All you need to do to be able to whip this up is to make sure you always have eggs in the fridge and bacon, bread and hashbrowns in your freezer. Done and done.
Old standbys. These are the recipes that get repeated around here quite often and are really easy to make with just a few ingredients on hand.
Homemade Mac and Cheese
Lasagna Rolls
Pulled Pork Enchiladas
Breakfast Smoothie (will be posted on dohdums blog sometime Monday, if the link doesn't work yet…try again later!)
My favorite websites for recipes:
All Recipes
Food Gawker
Martha Stewart
101 CookBooks (a new find)
Friday's on my blog I am posting my weekly meal plan for the upcoming week PLUS a list of recipes and reviews of meals from the previous week. Having this "deadline" to think about each week helps keep me on track with my meal planning.
Do you meal plan? What are your favorite recipes? Websites? Tips? Hints?
Thanks again, Kendra, for letting me be part of your blog!