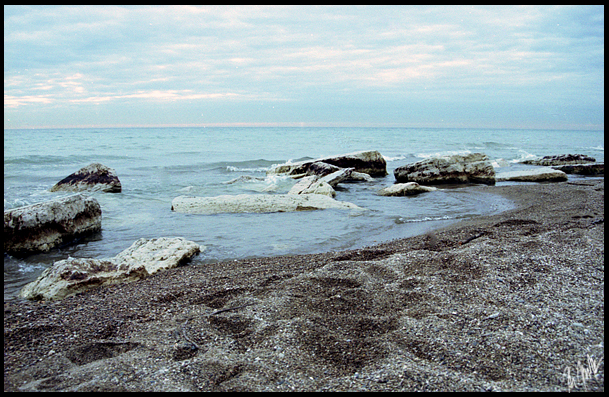 (a photo I took in 2009 on a beach on Lake Michigan. 35mm Film- Portra love love love this film. If you want color, buy some portra.)
This week I wanted to share some photography related tips for you all! I've been doing photography for over 7 years now and love to help those who are just starting out and need a little push!
1) Don't be afraid to try new things. When I first started taking photos, all I used was a small point and shoot camera. Granted, I was lucky because it had options for ISO and f stop on it (I can't seem to find any point and shoots that do anymore). I photographed EVERYTHING, just to get used to my camera, to get used to seeing the world as a photography. I would set up little photo shoots in my bedroom, experiment with lighting, camera settings. Anything I could get my hands on, I did it. I think this was super important to helping me learn what I wanted to photograph and who I was as a photographer. Don't turn your back on anything until you've tried it at least once. Believe me…you wouldn't think commercial photography (shooting just objects) can be fun, but I found I really enjoyed it when I did it in a professional studio with lights and all that jazz.
2) Read. I love giving this tip for everything. If you want to be a better photographer, you need to read. Read all the blogs and websites with tips, read camera reviews, read your camera manual, read books. If you're shooting digital get a book about digital photography (I have this), BUT also buy older books. I recommend Black and White Photography: A Basic Manual by Henry Horenstein (I've met him btw, cool guy.) Also, Beyond Basic Photography by Henry Horenstein is good to read after the first one. If you want to be more simple, get Fundamentals of Photography by Tom Ang, it talks about both film and digital.
3) Learn film. I'm not here to start a debate on if film or digital is better. (Neither, they both have their pros and cons) But again, if you want to be a serious photographer at some point. I suggest you learn how to use a 35mm SLR. If you have a chance to learn to develop your own film+prints that's even better (I'm kind of weird and really love the smell of the darkroom.) The second camera I used was a 35mm SLR. I went from a small Point and Shoot to a fully manual camera with no idea what to do. So I learned. Being completely blind to your results, knowing film is expensive to buy and get developed really makes you think about each shot, about the exposure and the depth of field in a way I think we all neglect with digital. I've shot with film cameras since freshman year of high school, and even after using it constantly for a year in college, I still make the mistake of not paying attention to those things when I switch back to digital. But they are the fundamentals of photography. You MUST know what f stop is, what exposure is, what depth of field is, what shutter speed and iso are if you ever want to be a better photographer.
4) Don't be afraid to ask questions of others. I don't know about others, but for myself…I am more than happy to talk to those who are starting out on their journey and need some help. I've helped others before, talked to them about f stop and shutter speed and all of that. I've given recommendations for websites and books, I've talked about model releases and contracts. I'll admit, I don't know everything and no one does. But it helps immensely to get help from others. I've also had a lot of practice at critiquing photos from being in art school and am always willing to tell you, honestly, what you need to work on. Don't be afraid to ask for help if you don't understand how to do something on your camera, or if you want advice on a photo.
5) Look. At good photographers, at good photos, at artwork and at commercial work. You need to pay attention and try to notice what they were doing in their photos, what those photographers were doing in their cameras to make a successful photograph. I've got lists, long long lists of some great photographers (mostly 1900s, film) so if you want some suggestions, or magazine suggestions let me know.
Okay, that's just the beginning of the advice I could give for photography and don't worry…I'll be back with another edition of photography tips at some point. If you have a specific question/something you want me to address next time, let me know in the comments.
♥