Back in February I shared a post called "What's On My Bookshelf", my own version of a "What's In Your Bag" post.
We have a lot of books and about 5 bookshelves filled to the brim. Last time, I shared my shelf that houses my creative writing and mythology books.
So today, I thought I would share another.
This shelf is on a different book shelf than the last one.
We bought this shelf at a thrift store for $10. (it was a salvage piece but the only thing wrong is that it's missing a little veneer on the bottom shelf, which I keep meaning to paint!) This is actually my second favorite shelf now. I love the height and the color (espresso). I used this bookshelf as a little piece of interest in my first outfit post too!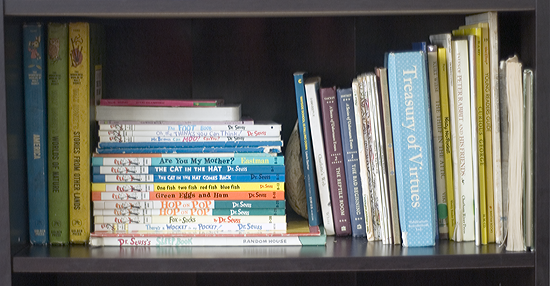 The top shelf of this case currently houses all of our "children books". One of my goals in life (random) is to own every single book by Dr. Seuss (60 something!) and one because I love them and two, I've always kept in mind my future children.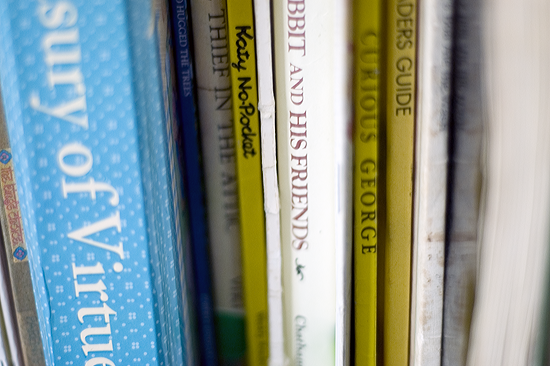 So now we go to the thrift stores a lot and I've recently begun digging through the kids books sections. I mainly look for things I read as a kid or anything older than 1998 or so. Because I'm weird. (same reason we're hoarding and searching for VHS and DVDs of the movies and TV shows we watched as kids. Things these days just aren't up to snuff ladies and gents!)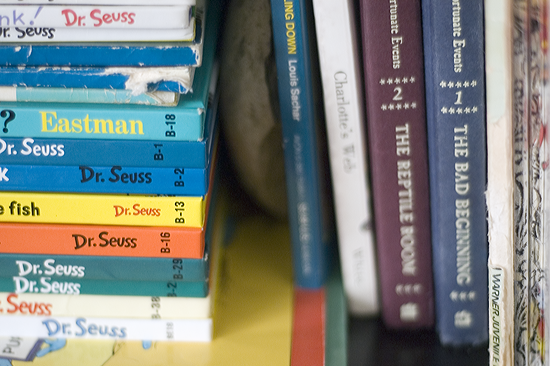 And now our little collection has grown considerably, when before they were just tucked away in a box for our some-day kids…I decided to put them on a shelf. We have about 50 or so.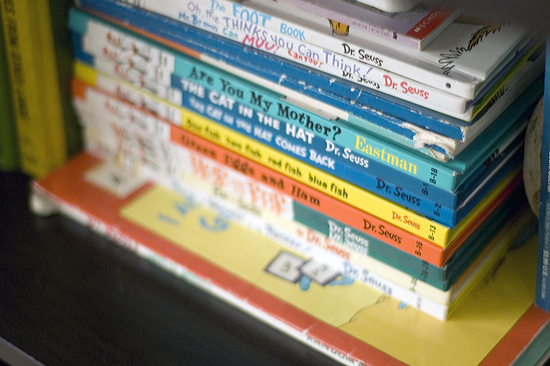 Just like last time, I made a list on Amazon of all (or most) of the books on this shelf. Take a peak HERE. There were a few I couldn't find on there but most are listed in case you want to see all of them or purchase some too!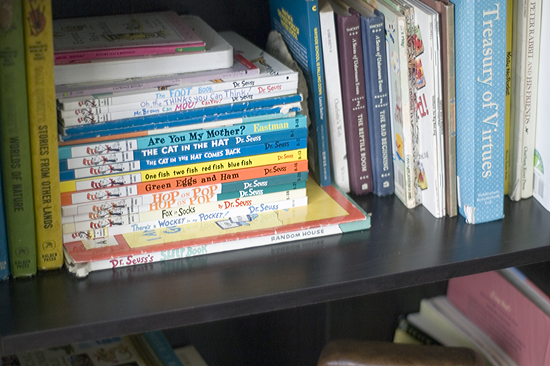 A few random things:
1 – I own 3 books of Cat in the Hat and 2 of Hop on Pop. I don't know why to be honest but I can't seem to part with my extras either.
2 – My favorite book when I was younger was "There's a Monster at the End of This Book"
3 -We picked up some of these at the thrift store and I haven't read them yet. But I love that we now have books from different countries (India, Central America and Germany)
4 – I love reading aloud. I think I put a lot of emotion into it.
5 – What were your favorite books as a kid?
6 – Do you buy things for your future kids or am I just insane?
7 – Oh. And I need more books. Obviously.
8 – And! Have you ever read/heard of the Serendipity books? I'm having a super hard time finding them in any kind of store but they were also some of my faves as a kid and I need all of them.
♥
Don't forget to ask me questions!