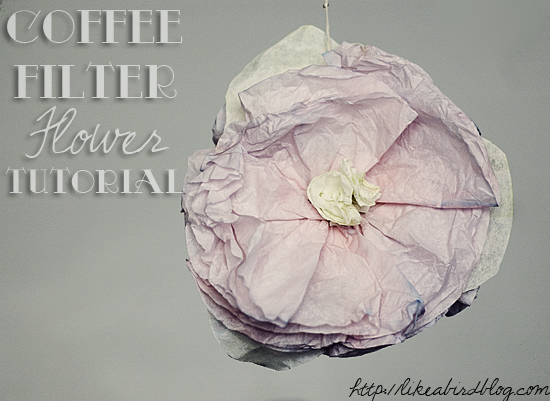 A few weeks ago, I was trying to fall asleep and thinking about some fun DIYs I could share on the blog. For some reason, a flower diy came into my head. Well, it is summer!
And I thought I would share it today for my party.
*I'm gonna be perfectly honest here and tell you this was my first attempt at making this and I kind of bumbled my way through it. I improvised and just made it up 100% as I went along. I hope I can explain it well and if anyone tries out the project, does it differently/has improvements please let me know!
**This project is fairly easy. Part of it is kind of messy so cover the area you're working on.
***This looks super long and complex but it's not. There are a lot of steps here because I tried to be detailed. I'm not too good at step by step I don't think.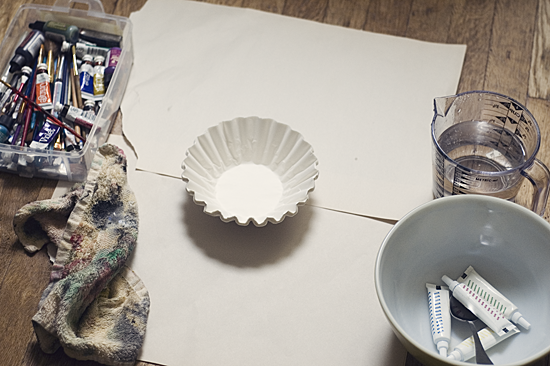 Supplies:
-Coffee Filters (I used 14 total for 2 flowers)
-Bowl
-Water
-Food coloring (or paint. I think watercolor or acrylics should work but I haven't tried.)
-Something to stir with
-Paper (to lay your filters on as they dry)
-Glue (I used modpodge)
-String
-Tape
Step 1 –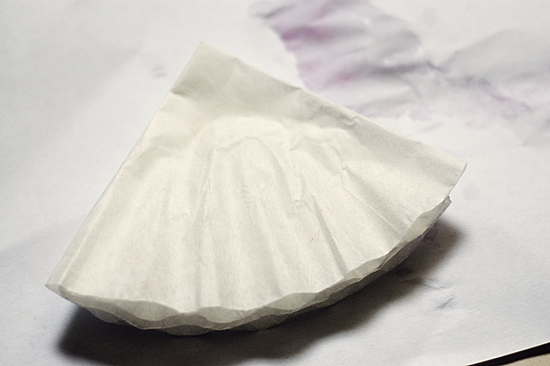 Take 4-6 coffee filters per flower and fold them in half, then in half again so they look like this:

Step 2 -
Pour about 1/4 to 1/2 cup of water into a bowl (I used one of my pretty Pyrex bowls!) Add food coloring and mix.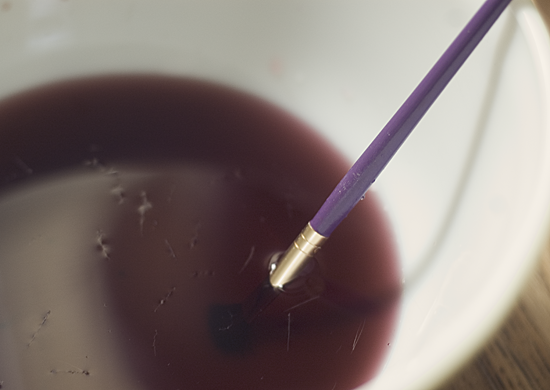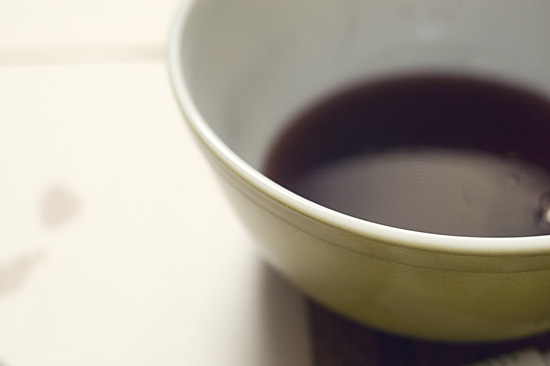 I probably should have used paint because the only food coloring I had was gel form, which made it hard to mix but that's okay.
I picked red (light enough that it was pinkish) and added a splash of blue.
Step 3-
Dip entire coffee filter (folded) into the bowl, you can let it sit if you want, but I didn't.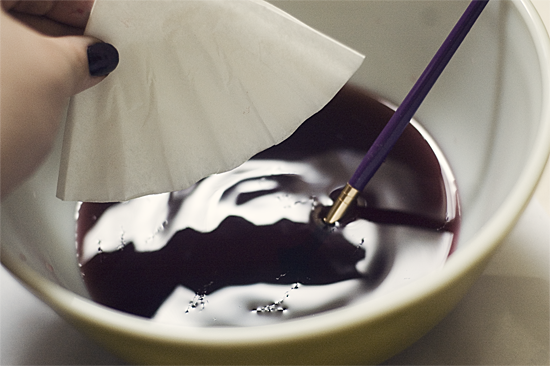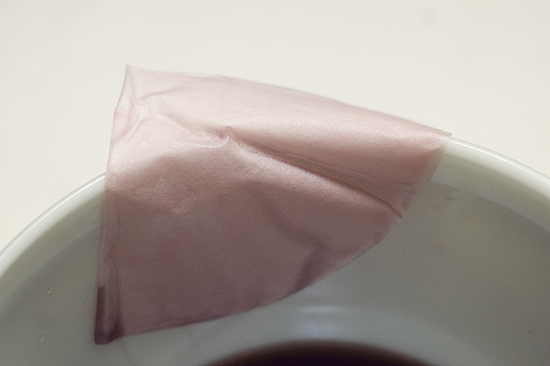 Then lay out to dry and do the rest of the filters
Step 4 -
If you want to do a gradient look on your petals, add another color to your dye/clean out bowl and add more water+color. I added more blue to my already mixed colors so it was a darker purple
Dip your petals (filters) again.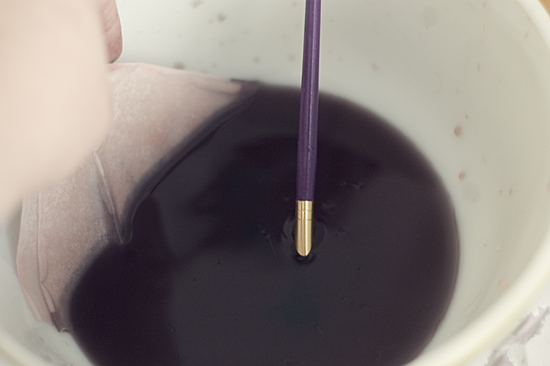 You don't want to dip them the whole way and you can vary it for each flower. My colors all turned out very pastel. I think next time I'll try paint (if any of you do, let me see!) and/or soak them longer. I don't mind the pastel shades but vibrant would be fun too. Also the gradient is really subtle (when dry) but I think it would look a bit too flat without it.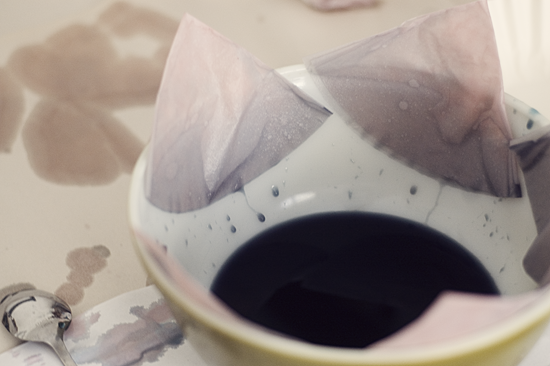 Step 5 –
Lay petals out to dry (I did all 12 of my petals at once but if you want your flowers different colors then clean out your bowl and repeat steps 2-5 above)

Step 6 -
Once all of your petals are done, clean out your bowl, then add new water and a color for your center.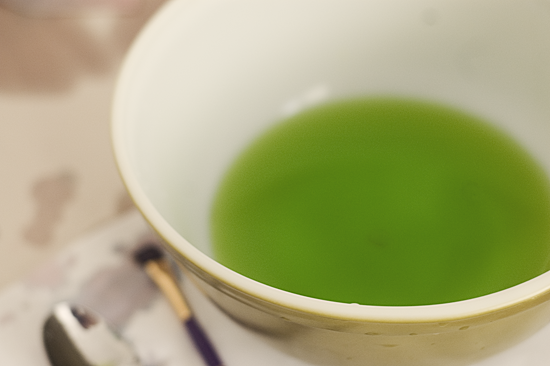 I did a light green.
I folded the coffee filters in half just so it would all fit at once and then dipped the whole thing in the bowl.
(you can do another gradient kind of thing if you want here as well.)

Step 7 –
Let all filters dry. I admit it, I took a hair dryer to them.
Step 8 -
Pick out the filters you want for flower 1. I ended up using 5 per flower instead of 6. You will probably need either 5 or 7 for a larger one.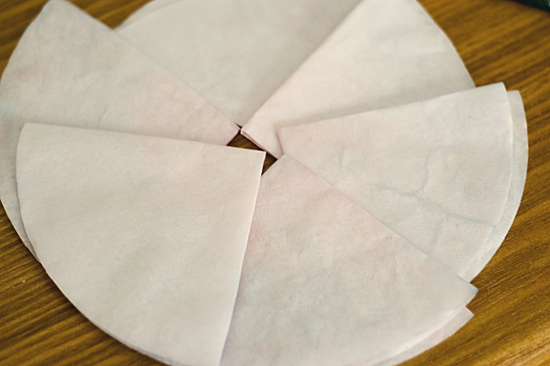 (the color is really light in the picture. The colors are subtle, but you can definitely see them.
Step 9 -
Take a filter, crumble it up!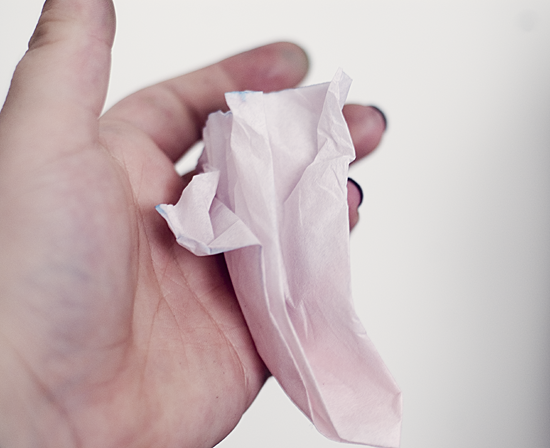 Step 10 -
Unfold it and pull the pieces apart. It's still folded but the top is crumbled and separated.
It should look similar to this: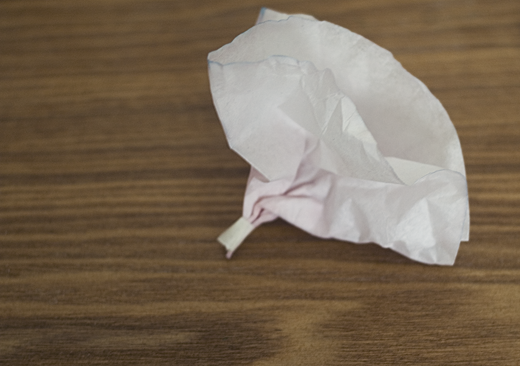 Step 11 –
Fold the bottom kind of over itself (see the photo)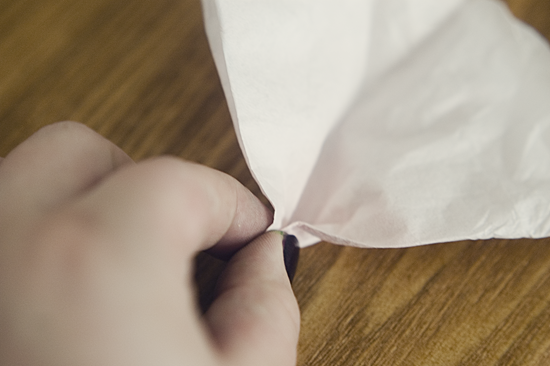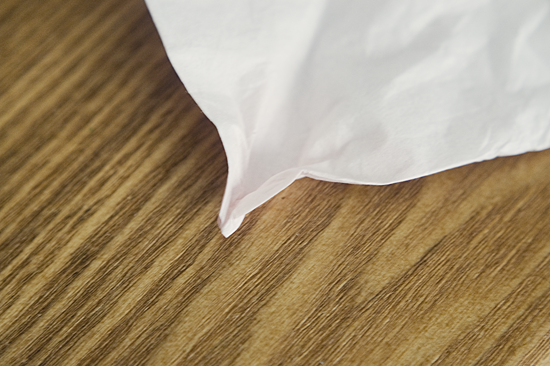 Then put a little glue on it. I also taped it just to be safe. You can't see the tape when you're done.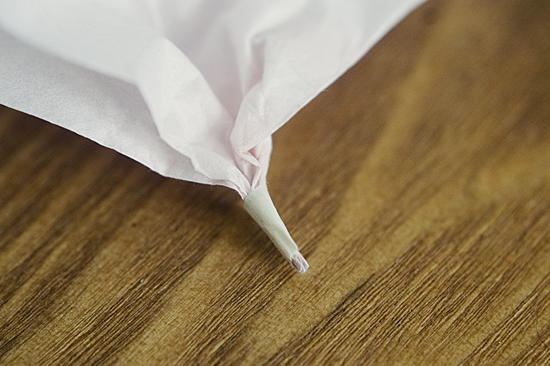 Step 12 -
Repeat with all petals
Step 13 -
Take two petals, hold them together and tape the bottom pieces together(the place we just folded and taped). You may have to wrangle it a bit so they petals are out of the way of each other.
Repeat with all petals. With some of them, as I was taping I taped the backs together just so it wouldn't move as I finished the others.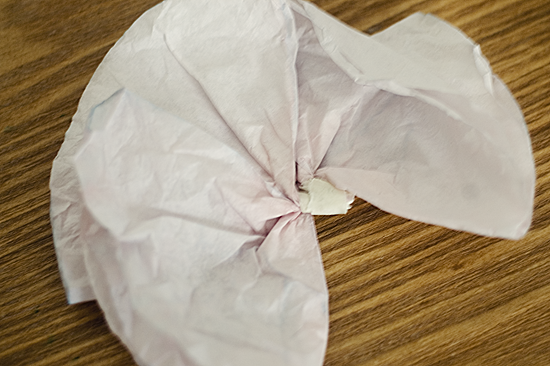 Step 14 –
When its all together, turn it over and put a little glue where you taped the backs together. Just enough that they don't move too much but not so much that everything stays down, you want fluff.
Step 15 –
Turn back over. Your petals will be squished but you can separate and crumble them up a bit any time you need to.
Take the green filters (or whatever color you used for the center bits) and rip it in half.

Step 16 -
Then roll it up a bit (see photo)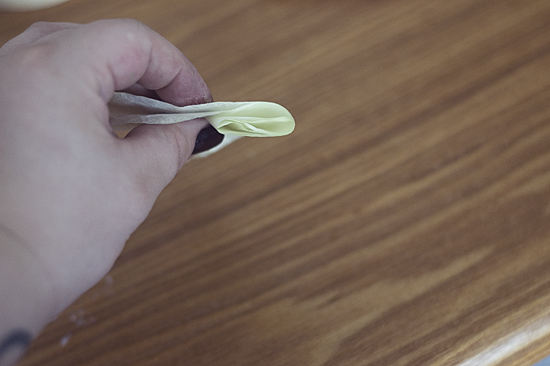 Cut off the end, fluff it up a bit and glue it in the center of the petals. I had to use 2 of these rolled up green bits to cover the tape. You can do almost anything with this, make little balls to glue down or something else, like I said at the top, I was improvising.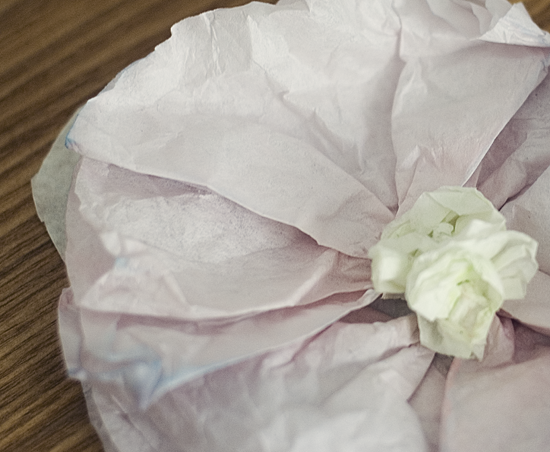 Step 17 -
I took one of the other green filters I made and cut the edges so it was kind of wavy and glued it to the back for a bit more support and little leaves (again your petals will probably squish, just fluff em up!)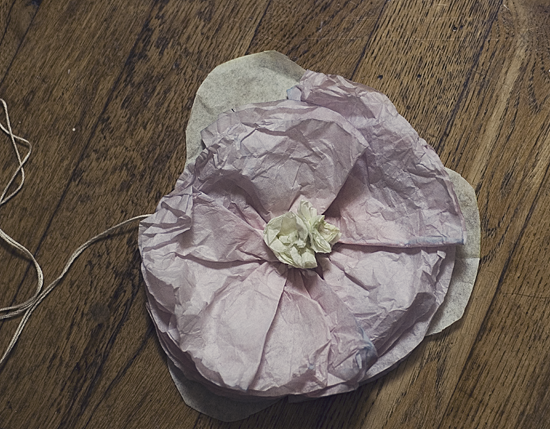 Step 18 -
Take a piece of string and glue it on the back too. (mine actually fell off. I probably didn't glue it well enough. Be sure it's stuck there well before you continue, because you won't be able to get to it when we're done.)
Step 19 -
Repeat steps 8 through 16 for your second flower. When you get to putting the leaves/support on the back…stop and don't do that. Read on below:
Step 20 -
Take your second flower and glue it to the first flower(onto the leaves/support)! Now it can hang and spin and look pretty on all sides.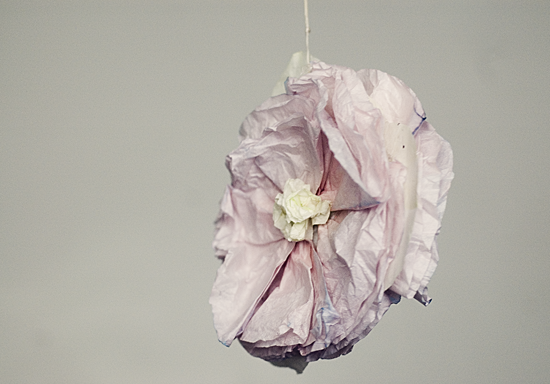 Hang it up and you're done.
That was super fun to make! A lot of trial and error on my part and I will try to make more with different techniques and material and post an update when I can. If you try out the tutorial I would LOVE to see it, please comment below with a link.
♥