It's the middle of summer (and it's hot!). It sounds lovely to have a little gathering so I wanted to share.

If I was having a summer party I:

Would wear:


This pretty dress from Ruche's fantastic plus size section. I love places like Modcloth, but they don't offer plus size, which is disappointing and someone on my twitter said Ruche has a great plus size section and I've been drooling over the clothes ever since! (do you know of any other sites, similar to this that offer plus size?)


And I would wear my hair in a braid and put some wildflowers in it like seen on Knight Cat's blog.

Would set the table here, like this:


This pretty little table setting found here from Cabbages and Roses is just darling. Not only do I love the fabric, but look at the setting?! I feel like it's a little garden in France. So lovely.
Would eat: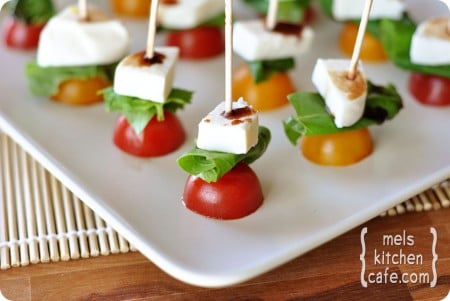 These yummy looking Caprese Skeweres from Mel's Kitchen Cafe. I'm all about the finger foods!


Don't forget dessert! How about this homemade Blackberry, Raspberry and Blueberry Ice Cream via Life is Great.
Would drink:


This yummy looking Lavender Lemonade via Dianasaur Dishes.


And let's not forget the refreshing Sun Tea that Kristin from my life as a tea cup shared earlier!
Would play:


Lots of different games! Like those shown above via StyleMePretty .

Would party with:
My family!
As the night winds down…we would:


Watch an outdoor movie like this one featured on Design*Sponge. I think we would put on The Princess Bride.
Now I REALLY want to throw a party! This was fun to put together! What would you have at your summer party?
♥