So last year, I made a list of 43 things to do by the time I'm 22. I failed, again. And yet, here I am determined to try again. I made the list to last until I turned 22 but with all the chnges going on in my life, I felt I needed a new one. And with a baby on the way, I feel like it's even more important to make some fun, realistic goals of what I want to accomplish this year. And so I'm going to try again. Wish me luck!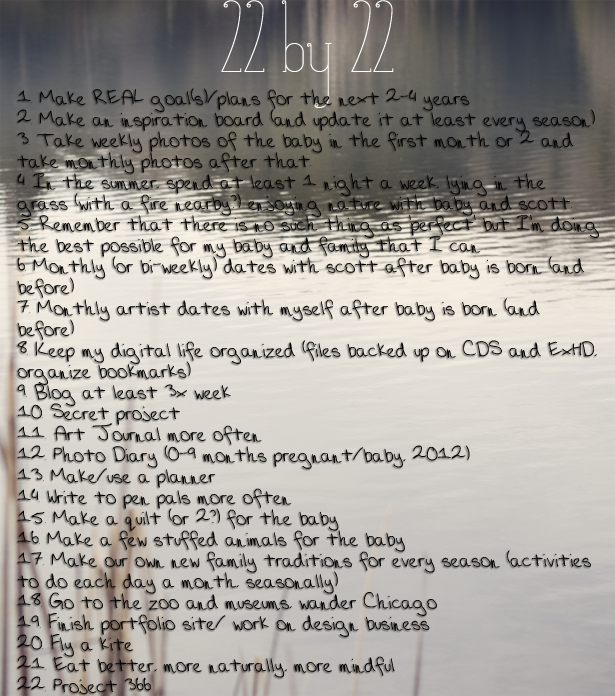 Here are the goals written out, in case you can't read them above:
1. Make a REAL goal(s)/plans for the next 2-4 years
2. Make an inspiration board (and update it at least every season)
3. Take weekly photos of the baby in the first month or 2 and take monthly photos after that.
4. In the summer, spend at least 1 night a week, lying in the grass (with a fire nearby?) enjoying nature with baby and Scott.
5. Remember that there is no such thing as 'perfect' but I'm doing the best possible for my baby and family that I can.
6. Monthly (or bi-weekly) dates with Scott after baby is born (and before)
7. Monthly artist dates with myself after baby is born (and before)
8. Keep my digital life organized (files backed up on CDs and ExHD, organize bookmarks)
9. Blog at least 3x week
10. Secret project
11. Art Journal more often
12. Photo Diary (0-9 months pregnant/baby, 2012)
13. Make/use a planner
14. Write to pen pals more often
15. Make a quilt (or 2?) for the baby
16. Make a few stuffed animals for the baby
17. Make our own new family traditions for every season (activities to do each day a month, seasonally)
18. Go to the zoo and museums, wander Chicago
19. Finish portfolio site/ work on design business
20. Fly a kite
21. Eat better, more naturally, more mindful
22. Project 366
Oh and yes, today is my 21st birthday. Not much celebrating like a normal 21 year old around here this year! Oh well, next year I plan on asking for a tattoo (or two) haha!