Week 33 Update:
This week baby is about 17inches long and at about 4lbs is the size of a pineapple! (according to the babycenter app on my phone.)
Baby is doing well! Sometimes he doesn't feel like moving when I want him too and it freaks me out but he eventually does haha.
My cousin had a little boy last year and they aren't planning on having any more so she drove down and gave us: car seat + stroller travel set (! score! such an expensive item I'm so glad to have), lots of clothes for 12-18 months (she got rid of the ones before that because we didn't know it was a boy yet), a moby wrap (! been on my wishlist forever!), bathtub, a diaper bag (we've had such a hard time picking one haha so this is great), some bottles, blankets and a few toys. So awesome! I really appreciate all the things she gave me and I know she's planning on saving all his clothes that aren't ruined from now on too and she's also giving us a changing table soon too.
Oh and just for fun here are a couple of outtakes with my dog, Harley from Week 33!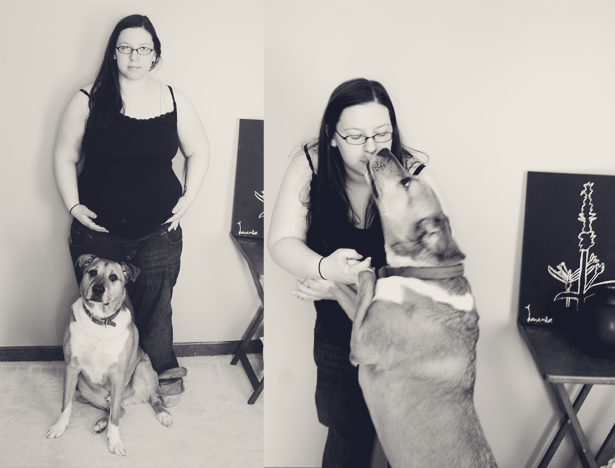 Harley is a huge ham and loves having his picture taken! He also really loves giving kisses hah!


Week 34 Update:
This week baby is about 18inches long and at about 4.75lbs is the size of a cantaloupe! (according to the babycenter app on my phone.)
Switching doctors…again! Insurance and doctors are so stressful here, it's ridiculous! My appointment is tomorrow so I'll have to let you know how it all goes in my next update.
In other news…I feel like I've been pregnant forever but at the same time I can't believe there's only 3 weeks until I'm officially full term! Baby could technically come any day now and be happy and healthy! ahhh! I keep joking with Scott that he has all the excitement over baby covered and I have all the scared haha! Is it weird that I'm more scared for after the birth? I know most first time moms are probably focusing on the labor part of having a baby at this point but I'm thinking more about when we bring him home! Scary. But exciting at the same time. It's getting so close!
I think I may have been having contractions in my back on Monday night but I wasn't sure. (I feel like I would know for sure…right?) It was a really weird pain but it wasn't consistent at all and after taking a hot shower and sleeping it didn't happen again so I don't know what it was! Kind of scary though, so not ready for baby to be here and he shouldn't be ready either!
Check out the past baby bump progress:
Week 5 & Week 21
Week 23 & Week 24
Week 25 & Week 26
Week 27 & Week 28
Week 29 & Week 30
Week 31 & Week 32

Like a Bird is now listed on Top Baby Blogs! It would be so great if you vote for Like a Bird, all it takes is 2 little clicks. Just click on the banner below or the banner in my sidebar to the right.
(you can vote once every 24 hours!)