Oh no! We kind of forgot/didn't get the chance to take pictures this week. We were very busy with a lot of life/job stuff this week and it just slipped by. I'm kind of bummed but it's okay, we've done really well so far taking photos each week I think!
I did manage to find these two pictures on our point and shoot though. The first image is from my angle and the second Scott took standing next to me.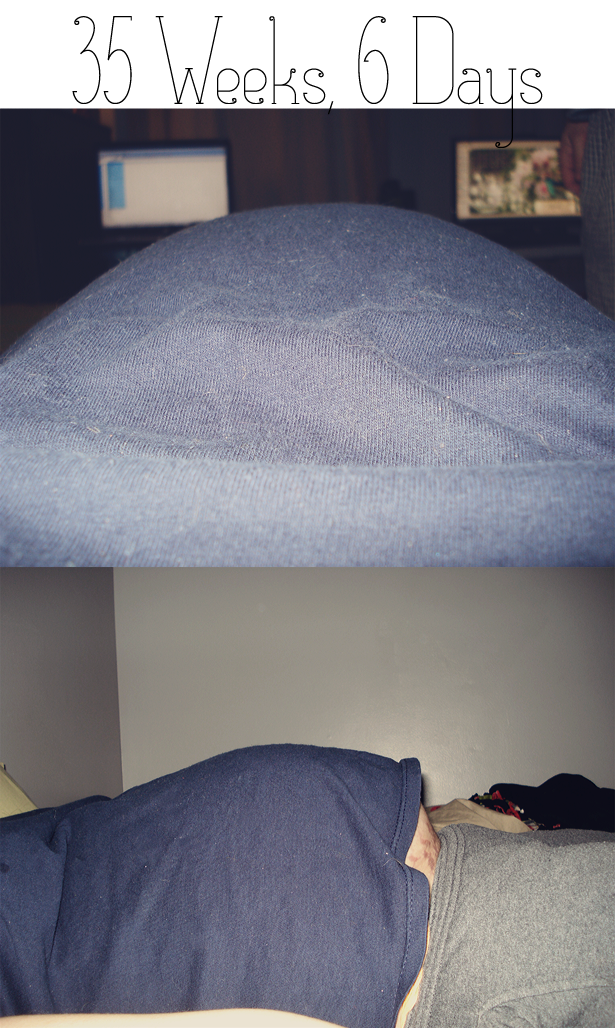 Please ignore the pjs, dog hair, and stretch marks (oh and horrible flash). This is pregnancy ladies and gentleman! This is what I wear almost constantly since I don't leave the house much haha!
Week 35 Update:
This week baby is over 18inches long and at about 5.25lbs is the size of a honeydew melon! (according to the babycenter app on my phone.)
In baby news this week…
I've seen the new midwife twice now and it's a lot better than who I was seeing before. The office is much more friendly overall, the midwife is nice and caring, the hospital is pretty much brand new (2009) and there's private rooms for labor/post partum! We still have to do the hospital tour but it seems really nice (and the c-section rate is sooo much lower). The other great thing is that my current midwife allows me to use public assistance! One of the main reasons we decided to switch was because the other dr I was seeing wouldn't let me get public health insurance and then wanted a lot of money that I couldn't afford (and she refused to work out any payment plans!), so now I am 100% covered between private health insurance and public (for all dr visits and the delivery) and baby will be covered right when he is born (and for up to 1 year) and I have no payments/co-pays or anything so yay!
In bad news this week…
I had a midwife appointment on Thursday and all 3 times they took my blood pressure it was pretty high. Even after lying on my side it was higher than 'normal' so I had to get some blood work done and such and have to go back on Monday to see what's going on. They also put me on modified bed rest over the weekend which has been sucky because I just started nesting like crazy and so I'm trying to nest and organize while having to just tell Scott what to do instead of doing it myself! My mom had per-eclampsia with my second brother and I have been feeling off lately. I've gotten neasus and dizzy a few times in the past two weeks but I'm not sure if it's related to my anxiety or if I have pre-eclampsia. Check for an update below on what happened at the midwife appointment!

(the painting in my pictures this week is an oil color painting my grandfather did. I've wanted one of his paintings for years and was a little sad after he passed away in 2010 that I didn't get any but my mom surprised me with this at Christmas! I love it, just need to hang it somewhere.)
Week 36 Update:
This week baby is about 18.5inches long and at about 6lbs is the size of a crenshaw melon! (according to the babycenter app on my phone.)
First off, an update on the my midwife appointment from Monday…
All my lab work came back completely normal and my blood pressure was back down to a great range too! No idea what happened last week. I thought for sure I was going to turn out with pre-eclampsia because in addition to the high blood pressure, I've been nauseous and dizzy but who knows what's going on. Baby was measuring well and heartbeat was great too. The only slightly bad news is that I tested positive for GBS which isn't the end of the world but I was seeing the Doctor not my midwife so I need to talk to her next week about how it's going to effect my birth plan (besides going in when I start labor vs laboring at home). But I'm off bed rest and told to go back to everything being normal.
and in other news…
My mom (and sister) threw me a baby shower this Saturday! I got a lot more than I was expecting and while there was only about 8 or 10 people there, it was still a lot of fun. I'm super grateful for everyone who came and bought things for the baby! We have pretty much everything we need now. I would still like a pump and 1 more wet bag as 'essentials' but anything else on my wishlist is just stuff that would be fun or nice to have but we don't really need it.
I've been having a lot of dreams about going in to labor recently! haha it's probably normal but also scary because I've been nesting like crazy and except for like 2 small things I don't have anything left to pack for the hospital for myself or baby and everything is washed and put away. The only main thing not done is that the car seat isn't installed yet. I've been enjoying nesting and love feeling ready for baby but now I feel like I'm giving him an invitation to come soon haha!
Check out the past baby bump progress:
Week 5 & Week 21
Week 23 & Week 24
Week 25 & Week 26
Week 27 & Week 28
Week 29 & Week 30
Week 31 & Week 32
Week 33 & Week 34

Like a Bird is now listed on Top Baby Blogs! It would be so great if you vote for Like a Bird, all it takes is 2 little clicks. Just click on the banner below or the banner in my sidebar to the right.
(you can vote once every 24 hours!)