I'm planning to take pictures every week for the first 2-4 months and then monthly pictures after that. So for now I'll be posting baby updates bi-weekly on Wednesdays like my Baby Bump pictures were. Hope you all enjoy these little peaks at my new guy!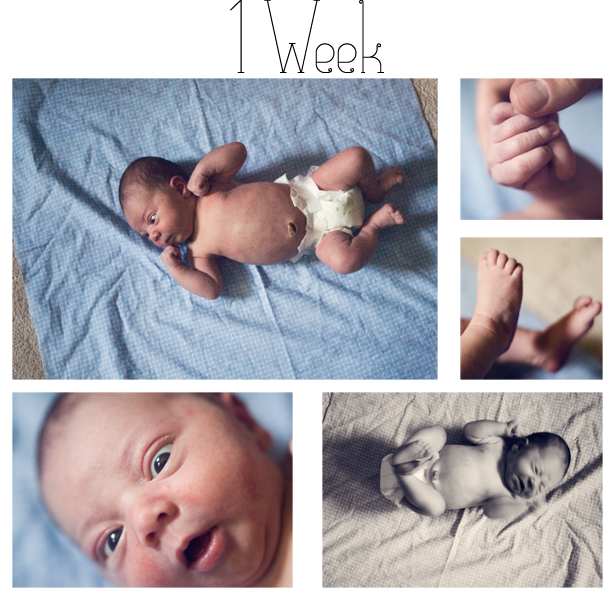 Baby Jeff,
You are one week old today baby.
Time is going fast and slow at the same time. I love you and the little contented sounds you make as you nurse. I love how offended and peeved you look when Daddy and I ask you questions. I love how wiggly you are and how calm you get when daddy talks to you.
You sleep 2 to 4 hour stretches at a time. We're still working in your understanding if night vs day but you're getting better. Sometimes I think you sleep better for Grandma than for either Daddy or I! Nursing really hurt the first week and it's still extremely painful on one side but it's getting better. Giving me hope that I'll be able to do this long term like I want to for you!
You've soaked through a lot of clothes and blankets, we've done laundry every day this week. It's more than Daddy expected I think.
We haven't started to cloth diaper you, yet. I want you to have a better, more solid routine first. Plus we got a lot of diapers from the hospital. The only problem is you don't fit in size ones yet! So we'll have to keep buying newborn size for a bit. Hopefully not too long, one of the reasons we decided to do cloth was the cost factor.
We've given you two baths so far. You screamed bloody murder with the first but hated the second slightly less, but you did pee on yourself as soon as you were clean of course!
You're pretty well behaved and don't cry too often (probably jinxing us by saying it). You bob your head when you're hungry and make little coo-ing noises in your sleep that are just the cutest things I've ever heard. You don't really enjoy your swing but you love to be bounced, especially on the edge of our bed.
I've been taking a ton of pictures of you on my phone, you're just too cute all the time! It was really hard to take these pictures with my real camera though, you are such the wiggly butt when you aren't swaddled. You never stop moving. You already roll over to your side by yourself, you are almost never on your back longer than a few moments when we lie you down. You also have great neck control and have since you were born. It's pretty amazing to see. Everyone who has seen you has commented that you have eyelashes. I didn't know that was so unique but your eyelashes are adorable. You get them from your Daddy, he has super long beautiful eyelashes too.
You had your first doctor visit on Tuesday May 1st. The doctor said you seemed pretty perfect, you weighed about 8lbs 4oz. You hated having to get undress to be checked over and you nursed almost the whole time we were there. I'm really nervous taking you out of the house still and probably will be for a while. But as soon as I heal up a bit and can walk again, Daddy and I plan on taking you for a walk around the neighborhood every night! I hope you enjoy it.
I'm still working on writing your birth story, I'm having a harder time writing it than I thought I would. It only lasted 10 hours but it's taking me so much longer to write out my thoughts and the whole experience.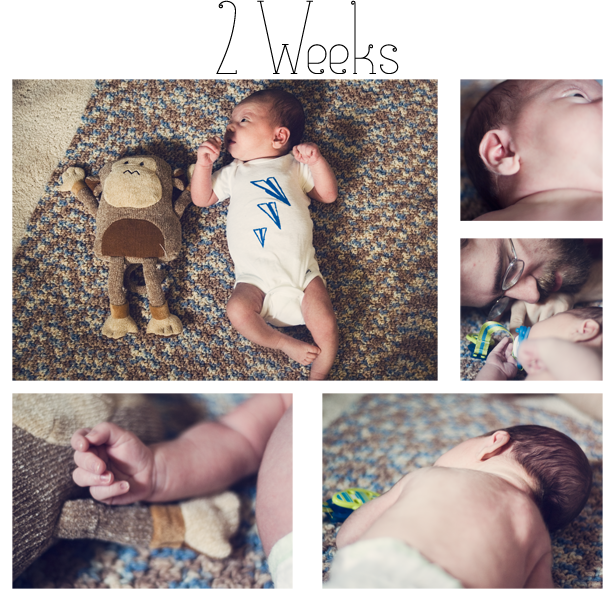 Baby Jeff,
You're 2 weeks old now!
You've been in our lives for 14 whole days and it feels like so much longer but at the same time, it feels like I was just pregnant yesterday. This second week has been harder than the first. You are (mostly) a perfect angel during the day but at night you have a hard time falling asleep and a harder time nursing. But the nice thing is that you do sleep two stretches of 4-6 hours every night! Sometimes it just takes an hour or more to get you back to sleep after a nursing session.
We had a second doctors appointment for you this week, it was just a basic weight check. You were supposed to be back to your birth weight (8lbs 12oz) by the time you were 10 days old. You were 9lbs 4 oz! You gained 1lb in a week! I'm so glad, I was worried with all the latch, nursing and spit up issues we've been having that you weren't gaining well but you're doing fantastically. Oh! Your umbilical cord fell off this week! I think it came off a bit early because it's still bleeding and we've been having to clean off the blood and make sure it doesn't get infected.
We started doing some tummy time though this week, since your belly button is (mostly) normal. You did really well the first time and most of the time you really enjoy it. You are so strong, you hold you head up for a few seconds! You've had great control of your neck and head since birth and I think it's just getting better everyday! You also have been rolling from your back to your side since you were born and once this week during tummy time you pushed (with your feet), from your tummy to your side! I told Grandma and she freaked out! You're so advanced for you age.
You really like being read to, Daddy has been reading you fables and fairy tales at night and started to read The Hobbit to you at night as well. You also like to be sung to and hummed to. Daddy sang you to sleep a few nights ago and you usually fall asleep for me in the mornings if I hum "Hope Fades" by Annie Lennox from Lord of the Rings. We are turning you in to a nerd already, and I'm sure you'll love it.
While you don't always sleep well at night, you set your own schedule pretty well. You've been waking up around 6am to nurse, sleep until about 9 or 10 to nurse then stay awake until about 1 or 2 to nurse then sleep until 5 or 6, nurse then are awake until about 8 or 9 then nurse then sleep until about 1 or 2 and then sleep until 6am! It's not always a perfect schedule but it's nice to know we have a good 4 hours in the afternoon that Daddy and I can go out and be together or get some work done.
In the pictures for week 2 above, you've wearing one of the handmade onesies we made for you! It didn't last long though, you peed yourself and then took a while to calm back down so we did the rest of the shoot in just a diaper (with Daddy on the floor to keep you happy!) Oh and just for reference, the little monkey next to you is about 13 inches long.