I'm all about honesty and truthfulness on this blog. And I could sit here and be honest about how terrible of a week it's been, how I've been in a constant state of panic attack and anxiety that won't calm down since about last Thursday. I could ramble on and on about all the things going wrong in my life, and ignore the things going right and the opportunities all the bad is presenting us. I'm sure I'll be back at some point to talk about the bad but for now I want to look at the small positives.
It's been almost 4 months since Scott left his job in Pennsylvania and moved to Illinois (I moved 1 month earlier to get settled). Despite our constant attempts at finding him a new job, we've so far been unsuccessful. It's been rough. And we'll continue to look, no doubt but the last week we've been talking more and more about the opportunity that's presenting itself.
I've always wanted to be self employed, to be making a money off of my art and my blog. And now seems like a great time to dive in and work for it. We have many goals and dreams ahead of us and some I've tried before and others are just starting out. They aren't all solid ideas yet and I'm sure everything will get refined, reorganized and better managed as the months go on. But for now, we're trying to look at the opportunity of us both being home and out of work as a sign to move forward with our small business and make it work.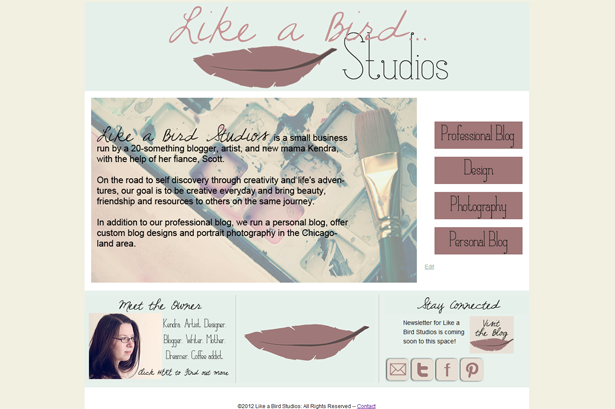 Like a Bird Studios
For now click on the picture or link above to be taken to our new Like a Bird Studios webpage. From there you can get to both blogs, our design website and our all new portrait photography page.