I've been kind of in a blogging…or rather life slump lately.
It's nothing new, my depression and anxiety is a lot to handle but since I had the baby it's gotten worse. Some days I feel like throwing in the towel, at least for a while, with this blogging business. Blogging gives me joy and it's essential to where I (think) I want to go with my life and career. But sometimes we need to step back and I think I really need to focus and care for myself.
But…without blogging, I'm less motivated and less introspective which I think are essential things to my healing. I'll go more into detail in a Journey to Recovery post soon but for now let's just say I've decided things need to change.
I got some responses from my reader survey that some people want more personal and life posts and others would prefer to see more art and less baby. Well I want it all but not in one place anymore.
So I've decided to re-vamp an old blog, Loose Leaf Dreams, that will now be all about family life, Jeffrey and our daily lives.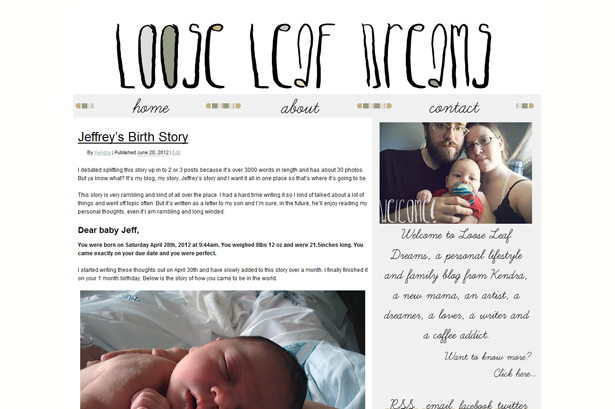 It will be personal and about family, on Loose Leaf Dreams I will be blogging for me not for the readers. But please, do stop by. I've ported over most of the family oriented posts from here at Like a Bird over to the other blog so it's all in one place.
Here at Like a Bird, I'll be posting less often, probably twice a week instead of 4 times a week. But the posts will have soul, they will be about matters that I care about and I hope to bring back some of my art and go more in depth with other topics I've neglected.
It's going to take me a while to get used to running 2 blogs and deciding what to post where, it might take me a few weeks to figure out what content I really want here at Like a Bird but I hope it will be more streamlined and more in line with the vision I have for us here.
I hope you stick around, let me know how you feel about the changes and check out my personal life and updates on Loose Leaf Dreams, too.