Morning! I haven't been feeling well the last week or so, I've been so sick that it's been hard to blog! I thought I would do a little something fun and easy today.
I've seen this all over a lot of blogs but I borrowed it from my good friend Angie.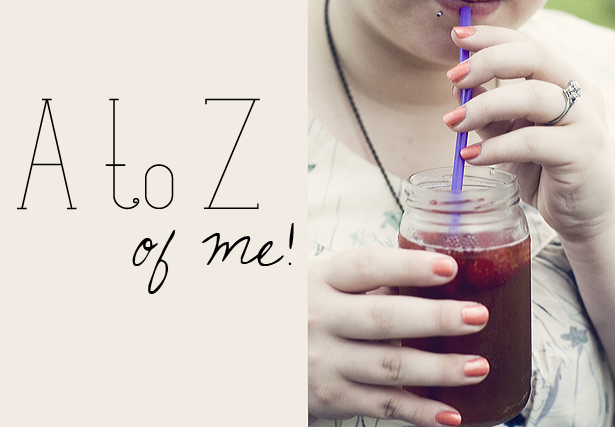 A. Age: 20
B. Bed size: Queen!
C. Chore that you hate: All of them? The only thing I don't hate is vacuuming.
D. Dogs: Love! We'll get a cute puppy in a few years hopefully.
E. Essential start to your day: Lying in bed for a while and waking up slowly.
F. Favorite color: A nice sage-y green.
G. Gold or Silver: White gold!!! <- me too Angie!
H. Height: % foot 1 inches. I know, so short!
I. Instruments you play: None. Although, I own 2 guitars and a flute.
J. Job title: Blogger, Photographer, Blog Designer.
K. Kids: Cute, can't wait to have some.
L. Live: Suburbs of Pittsburgh, PA
M. Mother's name: Jeanine.
N. Nicknames: Kendi, but only a few family members call me that. No other nicknames! Sad.
O. Overnight hospital stays: When I was like 3 or 4.
P. Pet peeves: When people don't turn when there are obviously 2 lanes to turn in to.
Q. Quote from a movie: The first two I thought of: "It's a trap!" and "Game over man, game over!" And if you don't know what those are from…I don't know if we can be friends. (just kidding!) (kind of…)
R. Right or left handed: Right
S. Siblings: 2 brothers and 1 sister. All older than me.
U. Underwear: Cotton Boy Shorts are the cutest and most comfy!
V. Vegetable you hate: Most? I actually have a hard time thinking of veggies I do like. I love me some fruit though!
W. What makes you run late: Nothing. I'm always early, I HATE being late!
X. X-Rays you've had: Ankle maybe? That's all I can think of.
Y. Yummy food that you make: Brownies!!
Z. Zoo animal: Penguins and Monkeys
That was fun! If you do an A to Z of you, please send a link back to me and let me know so I can check it out and get to know you too!