It sounds like a huge lofty goal, doesn't it? 100 Things To Do in 2013. But ya know what? For the most part, this list flowed easily for me. A lot of what is on here are things I (or my family) want to do already and just having their own space to live and remind me will encourage me to complete them.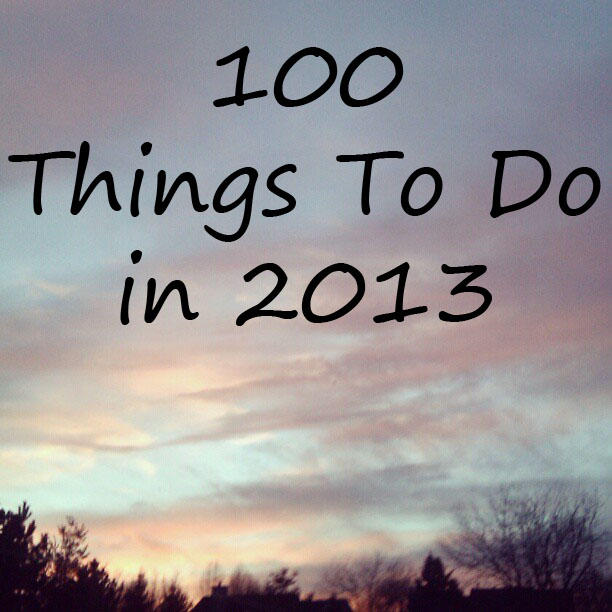 So in no specific order here is my list:
1- Seek balance – work, mama & wife. Do not get discouraged, life changes, Jeffrey will grow up and change daily, weekly as will my business. Seek, and experiment.
2- Take myself on 1 date a month. I really don't get out enough, alone. Try things besides the bookstore.
3- Get 4 massages, 1 each season.
4- Get a tattoo.
5- Create a "family activities" month calender each season, starting in the Summer.
6- Take a 3 day weekend with Scott and Jeffrey. A stay-cation is fine, just don't interact with anyone else in the house.
7- Take a 3 day weekend with just Scott.
8- Go camping with the family.
9- Mentor 5 women.
10- Knit a blanket for Jeffrey, hopefully by his 1st birthday.
11- Read 50 (new to me) books.
12- Take classes – in person or online.
13- Exercise regularly.
14- Eat mindfully.
15- Visit Chicago.
16- Go swimming.
17- Laugh more
18- Earn $2500 from my business.
19- Gain 50 more newsletter subscribers (75 total).
20- Write fiction again, without pressure for it to become anything.
21- Tell my story.
22- Get fucking married!
23- Do things that could potentially make me a friend, I need to connect more, especially with other women.
24- Make a plan for Jeffrey to take classes at Language Stars.
25- Take monthly pictures of Jeffrey after he is 1 years old.
26- Create weekly family traditions (like Saturday breakfast on the porch).
27- Start a savings account.
28- Go on 8 official dates with Scott.
29- Get 4 pedicures.
30- Crystal-ify our new space.
31- At the end of 2013, make personal/professional 3 year goals.
32- Read Norse stories.
33- Read Phantom of the Opera.
34- Go to a play/theater/concert.
35- Make wooden toys + plush toys for Jeffrey and be intentional about what he plays with.
36- Research and implement how to "go green".
37- Have family dance parties in the living room.
38- Grow things.
39- Go vegetarian for 2 weeks during the summer and utilize local farmers markets.
40- Find mama and baby local activities.
41- Create intentional habits.
42- Fix Scott's bike.
43- Ride our bikes.
44- Family game night.
45- Organize my computer and files, for real this time.
46- Dye my hair a fun color.
47- I will do, read or watch 2 things Scott recommends.
48- Go to the damn zoo.
49- Go to the Renaissance Festival.
50- Travel to a different state.
51- Work on my personal style.
52- Buy a new bed.
53- Pay off all debt, except student loans.
54- Attend a service or group at UU at least 1 time a month.
55- Hang up a swing for Jeffrey on lower deck.
56- Look in to peer mentoring local teens for mental health.
57- Complete the couch to 5k training program.
58- Do the Zombie 5K Run.
59- Do something awesome for our anniversary (like scuba diving).
60- Shoot 4 rolls of 35mm film.
61- Read Hamlet, aloud to Jeffrey.
62- Take archery lessons.
63- Rent a hasselblad.
64- Go to Gameworks.
65- Water gun/balloon fight.
66- Finish and print our 2011-2012 book.
67- Make sun tea.
68- 20 days without technology (not consecutively).
69- Learn something on the guitar.
70- Make it through all of Dead Island.
71- Volunteer (frogs).
72- Make a radio show/radio station.
73- Take art classes with my mom.
74- Oil paint.
75- Get Jeffrey swim lessons.
76- Take a drive in the country.
77- try out Geocaching.
78- Get a price quote for my ring.
79- Visit Glacial Park.
80- Try to make my handwriting better/prettier.
81- Private!
82- Only say "I'm sorry." when we really mean it.
83- Visit Anderson Japanese Gardens.
84- Book proposal.
85- Focus on health.
86- Document this list.
87- Take monthly photo walks.
88- Do photo an hour once a month.
89- New blog design/re-brand.
90- Go to the RV and Camping Show in February.
91- Go star gazing
92- Visit the park more
93- Take a bath instead of a shower once in a while.
94- Do yoga.
95- Donate blood.
96-
97-
98-
99-
100-
My list is not finished yet, but that's okay. It leaves space for thoughts and things to be added throughout the year.
Do you have a list of things to do in 2013? I'd love to see it!