Finally.
It has taken me waaaaay too long to get to this post. For some reason, I had the hardest time thinking of random, interesting facts about myself!
So there may be some repeats from previous posts I don't know but finally done!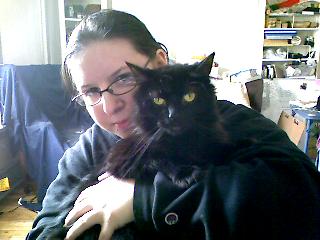 (Me and Lilith. She did not enjoy this, ha! Also, I have no make-up on, too lazy!)
77. I'm having a hard time coming up with 101 random, fun, interesting facts about myself!
78. I can't remember the last time I had a birthday party. I miss slumber parties.
79. I love going out to eat. Like a lot. I would go out everyday if I could.
80. I'm currently obsessed with reading young adult novels. But ones that are more in the middle (could go YA or Fiction/Sci-fi)
81. I <3 the puppy bowl. I missed it this year, as I don't have animal planet. Anyone know if it's going to be on hulu or where I could watch it online?
82. I want to dye my hair a crazy color. Purple or Pink. But I'm too scared. Someone come here and do it in my sleep!
83. I'm working on something secret. And I'm super excited about it!! You should be too.
84. We constructed a fort above our bed on February 4th. After many repairs (every few days) and lots of duct tape, it's still standing. I never want to take it down.
85. I've had the itch to write lately and can't seem to take my own advice of: shut the hell up and just do it.
86. I haven't done much art in weeks, months. Besides photography.
87. I am obsessed with Celtic Woman. (have I said this one already?) and they are coming to concert here in March. Want to go sooo bad!
88. My sister is going to the NKOTBSB concert. I am jealous.
89. My cat is still acting like a little teenager. And doesn't respond to water torture.
90. I'll admit though, I keep trying with the water torture because it is therapeutic and makes me feel better.
91. I've been obsessed with watching Merlin from syfy lately. It's so not the story of Arthur and Merlin at all, but it's a fun show.
92. I cannot wait to own a house.
93. I am also obsessed with Pinterest. Add me.
94. I always forget how yummy strawberries are until I eat some.
95. Same with watermelon. Watermelon is my favorite.
96. I would love to have a personal chef.
97. And masseuse. My back gives me such problems on a daily basis.
98. I want to be fluent in another language. French or Icelandic. (have I mentioned this one before too?)
99. On Saturday, I got dressed up and wore some heals so we could run to get ice cream. I was out of the car for 10 minutes. But I felt good.
100. I love heals. I have a secret thing for shoes. Don't tell anyone.
101. I'm in need of some art friends. Someone to motivate me, inspire me, talk about art and photo and all that good stuff. Interested?
Yay! I did it.
♥Do you have a 101 Things list? Send me a link!